Belmont Stakes pedigree: Can Mr. Prospector Do It Again
When this blog ran ahead of last year's Belmont Stakes, Mr. Prospector was on a run of being the progenitor of the sire of three of the past four Belmont winners, seven of the past nine, 11 of the past 14, and 13 of the past 17.
Palace Malice won the Belmont Stakes last year, and as a son of the Smart Strike stallion Curlin, extended Mr. Prospector's trend to four of the past five, eight of the past ten, 12 of the past 15, and 14 of the past 18 winners of the Belmont Stakes.
Sadly, I did not capitalize on Palace Malice at 13.80-to-1 despite both the Mr. Prospector connection AND he was the top pick of an ALL-Ways profile I had made specifically for the Belmont Stakes.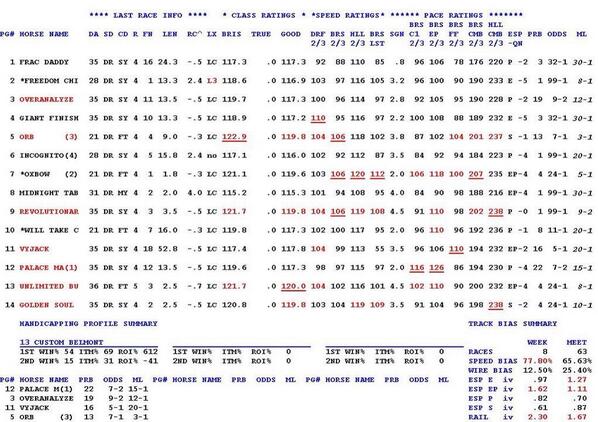 Like Alanis Morisette sang, you live, you learn, and it is incredible to me that 14 of the past 18 Belmont Stakes winner hail from the Mr. Prospector sire line with eight of those winners being produced by a Northern Dancer-line mare.
In those same 18 years, two of the non Mr. P. winners were by Northern Dancer-line stallions, but in the previous nine years Northern Dancer had four winners, so you can see a progression from influencing the sires of winners to the dams with eight of the past 12 winners being out of Northern Dancer-line mares.
We're likely to see the same trend with Mr. Prospector, who is responsible for just two sires of this year's 11 Belmont Stakes entrants (General a Rod, by Roman Ruler, and Ride On Curlin, by Curlin) but is the sire line responsible for the dams of four other entrants (California Chrome, Matterhorn, Matuszak, and Medal Count).
Three of those four bring us to potentially the next hot sire line of Belmont Stakes winners in A.P. Indy, who won the 1992 version of this race en route to Horse of the Year honors and sired the 2007 winner, Rags To Riches, to date his only victory as a sire in the race, but he is loaded this year with six of the 11 entrants, including the aforementioned California Chrome, Matterhorn, and Matuszak.
Two others, Derby runner-up Commanding Curve and Peter Pan runner-up Commissioner, are out of Northern Dancer-line mares. The sixth, Peter Pan winner Tonalist, is out of a Ribot-line mare. Of the six, only Commissioner is actually by A.P. Indy.
I present all this as fact only and without comment, as there are plenty of other variables to consider when pedigree handicapping, but it'll be impossible for me to ignore either General a Rod or Ride On Curlin at the expected prices based on sire-line alone. Mr. Prospector beating me again would be a jagged little pill to swallow.
Loading...