California Chrome Doesn't Have To Stay Home But Trust Trainer To Do His Job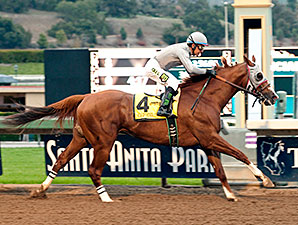 by LAURA D. PUGH
California Chrome's 2016 season started right where he left off in 2015: with co-owner Perry Martin micromanaging the 2014 Horse of the Year's campaign.
"California Chrome seemed to struggle a little bit at the end, I thought," Martin says in the Louisville Courier-Journal. It looked as though he was getting a little tired, which is why I think we need two [prep races] in Dubai. I'll talk to the trainer [Art Sherman], and we'll decide."
California Chrome finished second in last year's Dubai World Cup, and a return engagement in the world's richest race was always a part of the early season plan this year, but two prep races at Meydan would be a new wrinkle.
Sure, Martin says he'll speak to Sherman before deciding, but his final quote of "I own the majority of the horse, so I believe I make the decisions, until somebody tells me different.", reeks of his familiar "it's my way or the highway" tone California Chrome's fans came to know.
California Chrome is scheduled to leave for the United Arab Emirates on January 21, giving him nearly 65 days in Dubai before the World Cup. Squeezing in a second prep would give California Chrome four races in 11 weeks and three races in as little as 8 weeks. That's a lot of racing for a horse coming off a 10 month layoff.
The original one-prep plan makes a lot more sense. It entails three races in 11 weeks, and one prep race in a 10-week period, which makes sense given that Sherman and jockey Victor Espinoza were both thrilled with California Chrome's comeback in the San Pasqual.
Why question the two people closest to the horse? Sherman is around him every day and the Espinoza worked him twice for this comeback and has ridden him in his best races. They're amazing horsemen and don't deserve this treatment from an owner who makes up in ego for what he lacks in humility.
The current one-prep plan in Dubai for the World Cup is a sound one. There is no need to change things and micromanage now, off what was a successful return.
Mr. Martin, you have the best people you could ask for tending to your horse, managing his every breath, and they have done a wonderful job. Stop trying to get into an area that is not your expertise and let those who are the experts do the job you pay them to do. I would love to see California Chrome have a full and uninterrupted season. You tried to change things on a whim once, and it didn't work. Please learn your lesson.
Feel the EXCITEMENT as California Chrome heads for home with Imperative & Hoppertunity close behind! #SanPasqual pic.twitter.com/OdJFkjsbZY

— Skim The Rail (@SkimTheRail) January 10, 2016
Loading...