Del Mar: What's Old is New
The racing at Del Mar used to be on par with Saratoga. Ask any horseplayer living in Southern California and they will tell you that ever since Del Mar installed a Polytrack surface in 2007, the racing has suffered. You only need to look at the
Pacific Classic
to understand how badly Polytrack has affected the quality of horses competing.
---
Since 2007, the following horses have won Del Mar's signature race:
Student Council in 2007,
Go Between in 2008,
Richard's Kid in 2009 and 2010,
Acclamation in 2011,
Dullahan in 2012,
Game on Dude in 2013, and
Shared Belief in 2014.
---
Now, take a look at the horses that won the Pacific Classic from 2000 to 2006:
Skimming from the Bobby Frankel barn in 2000 and 20001,
Came Home in 2002,
the awesome Candy Ride in 2003,
Pleasantly Perfect in 2004,
Borrego in 2005, and
Lava Man in 2006.
---
Skimming may not be known to many of today's horse racing fans. In 2000,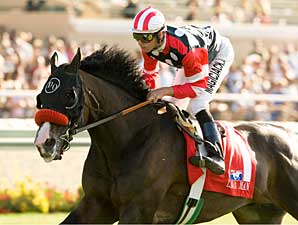 Skimming took home the Pacific Classic over three-year-old Tiznow.  Tiznow is the
only
back to back winner of the Breeders' Cup Classic. Pleasantly Perfect won the Breeders' Cup Classic in 2003 even though he won the Pacific Classic in 2004 and Lava Man is considered one of the greatest claims of all time. Lava Man, Pleasantly Perfect, and Tiznow are Hall-of-Fame worthy. A case could be made for Came Home who won the 2002 Santa Anita Derby. Could anybody say the same thing about Acclamation, Richard's Kid, Dullahan, and even Shared Belief who is turning out to be way softer than anybody ever imagined?
They definitely cannot. Dirt in Southern California may not create full fields, but it certainly attracts the biggest names in horse racing. What's old is new again this year as Del Mar will run for the first time over dirt since 2006. Horseplayers should be ecstatic. No matter what some horseplayers  may believe, horses do not gravitate to artificial surfaces the way that a horse gravitates to either dirt or grass. There was a belief that grass horses performed well over artificial surfaces. But, it doesn't appear to always be the case. The problem is not every artificial surface is the same. It's true that not every dirt surface is the same, but the difference between dirt and grass is pronounced. It's difficult to understand how different Tapeta is to Polytrack. Has anyone ever been able to prove that a Polytrack horse is as good over Tapeta or vice versa?
Del Mar is doing exactly what Keeneland, one of the tracks that started the artificial racetrack phase, did when it switched back to dirt after having their horses run over Polytrack since 2006. The racing at Keeneland was never better last fall and this spring. More importantly from a business perspective, Keeneland attracted stars to the racetrack. It attracted star jockeys, star horses and star trainers.
This is what Del Mar is attempting to do. The handle decline during the
2014 Summer Meet from the 2013 Summer Meet
after averaging more horses per race at the 2014 Summer Meet is a sign that Del Mar is attracting horseplayers but not racing fans.
My brother and I are horseplayers.  We'd take a look at Del Mar no matter what surface the horses ran over. Steve, my friend, is a racing fan. He wouldn't even consider making a trip to Del Mar unless a name horse was running. I'm all for Steven's money going into pools because as any horseplayer will tell you, it's a lot easier to compete against the Steve's of the world at the racetrack than it is against one's handicapping peers. In fact, I think I'll call Steve now and plan our Pacific Classic Del Mar trip.
Loading...