Don't Count American Pharoah out Just Yet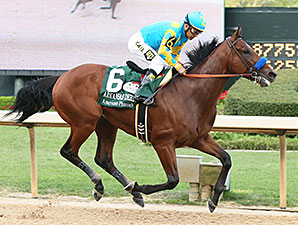 Don't let history talk you off of American Pharoah winning the Belmont Stakes on June 6. Since 2000 either the Belmont favorite has been upset by a horse that figured to run well, something crazy has happened to destroy the best horse's chances at the Belmont to win, or human error in one form or another has led to a Belmont loss. See if you agree with me.
2000 - 
Aptitude went off the favorite at $1.75 to 1. Why was Aptitude such a big favorite in the race?  No Fusaichi Pegasus and no Red Bullet. Commendable won gate-to-wire.
2001 - 
One of the best race horses in the past 20 years, Point Given, won the Belmont after destroying the field in the Preakness Stakes.
2002 - 
War Emblem, who was going for the Triple Crown, stumbled out of the gate and lost all chance. Sarava, one of the longest Belmont shots in history, ended up beating Medaglia D'Oro.
2003 - 
Empire Maker, the best horse in the race, ended Funny Cide's Triple Crown dream.
2004 - 
Stewart Elliot aboard Smarty Jones made what looked like a premature move along the backstretch. He opened up a big lead, but Birdstone caught Smarty Jones in the stretch. Another Triple Crown lost.
2005 - 
Afleet Alex, easily one of the top race horses to never win the Triple Crown, won the Belmont by 7 lengths.
2006 - 
Barbaro, the Kentucky Derby winner, got hurt in the Preakness. Bernardini, the Preakness winner, skipped the Belmont. Jazil ended up winning the Test of Champions.
2007 - 
Rags to Riches beat Curlin by a head.
2008 - 
Big Brown had a loose shoe. Some might question Kent Desormeaux pulling up Big Brown. Another freaky thing in the Belmont.
2009 - 
Rachel Alexandra, the Preakness Stakes winner, didn't run. Mine That Bird, the Kentucky Derby winner did and lost to Summer Bird.
2010 - 
Drosselmeyer won the Belmont. Then, in 2011, he won the Breeders' Cup Classic.
2011 - 
Animal Kingdom, the Kentucky Derby winner, Nehro, the second place finisher in the Derby, Shackleford, the Preakness winner, and Mucho Macho Man, who ended up becoming the best out of all of them, ran in the Belmont. They all lost to 24 to 1 shot Ruler on Ice.
2012 - 
Neither I'll Have Another, the Kentucky Derby and Preakness winner, nor Bodemeister, the Derby and Preakness runner-up, ran in the Belmont. Union Rags, the second choice by .25 cents to Dullahan, won the race.
2013 - 
Palace Malice beat Oxbow while Orb finished third.
2014 - 
California Chrome lost to Tonalist. Did it have something to do with Victor Espinoza's ride?  Maybe it did, maybe it didn't.
Based on what's above, the real upsets are Commendable in 2000, Sarava in 2002, Summer Bird in 2009, Ruler on Ice in 2011, and Palace Malice in 2013. Some may claim that Tonalist was an upset winner. Let's go through each real upset.
Sarava went into the race a high speed rating, at least based on the ratings that I used, which is why I bet on him to win. It was one of my greatest hits as a horseplayer. I really thought that
War Emblem and Medaglia D'Oro would run themselves out and Sarava would be in the garden spot
. In fact, when War Emblem stumbled, I thought that Sarava had no shot. I got lucky, but Sarava figured as an overlay with a shot.
Commendable in 2000 got away with an easy lead. He coasted to a win because Aptitude didn't go after him early enough in the race. Gate-to-wire horses happen all the
time at every track in the U.S. Palace Malice actually figured because Oxbow won the Preakness Stakes after getting an easy lead and every horseplayer on the planet should have known that Oxbow wasn't going to get an easy lead in the Belmont Stakes. He still finished second. Orb won the Kentucky Derby over a sloppy track chasing one of the quickest half-miles, thanks to Palace Malice, in recent memory.
I didn't bet on Palace Malice but Matt Carothers, the terrific race analyst, and my brother Eddie both did. A lot of handicappers thought that the
Todd Pletcher trainee had a shot to win the Belmont. That leaves us with Tonalist, Ruler on Ice, and Summer Bird who upset Mine That Bird. Nobody should have thought that Mine That Bird's Kentucky Derby win was anything but a fluke. He probably shouldn't have been going off as the favorite in the 2009 Belmont Stakes. California Chrome, for all of his talent, isn't bred to win at 1 1/2 miles. His sire, Lucky Pulpit, was a terrific miler on the grass. Based on breeding alone, and Tonalist's Peter Pan Stakes, the winner was a real contender in the 2014 Belmont Stakes.
As far as 2011 is concerned, the Kentucky Derby winner, Animal Kingdom, was always more of a miler on grass than a dirt horse.
It didn't help that he almost lost his jockey as soon as the race started
. Nehro broke his maiden and then won an allowance race during his career. That's it. Mucho Macho Man turned out to be a serious race horse, but in his sophomore year, he just hadn't developed yet. The 2011 Belmont Stakes was ripe for a horse like Ruler on Ice to win it.
It's true that something strange can happen on June 6 to keep American Pharoah from winning the Triple Crown. But as horseplayers, we can't handicap a race that way. Unless you truly feel that one of the other horses entered can beat American Pharoah, it's going to be difficult to go against the Derby and Preakness winner to win the Belmont and the Triple Crown.
Loading...