Playing against the favorites in the Delta Jackpot
Delta Jackpot Stakes (11/21/14)
The Predicteform.com Pace Figures will tell you if a horse is likely to improve or regress in its next start. Pace Figures are not just a single speed number, but rather a series of numbers that are incredibly powerful in identifying the Form Cycle Patterns of a horse.

The 14th Delta Jackpot Stakes runs as the seventh race with a post time of 5:15 ET on Saturday from Delta Downs in Louisiana. Run at 8.5 furlongs for 2 year-old horses for a purse of $1mm, the Delta Jackpot is a Grade III stakes and one of a few 2 YO races that carries a 7 digit purse. The most well-known horse to win the Delta Jackpot is multiple time Breeders' Cup winner, Goldencents.

Another item of note is every runner has been sold at auction for prices ranging from $2,500 to $250,000, a reasonable prices considering the winner takes home $600k.

To view the free Pace Figures while reading the Delta Jackpot Stakes analysis, click here. For free Brisnet.com Ultimate PPs of the Jackpot, click here.
Check Out Sports Podcasts at Blog Talk Radio with
TwinSpires Radio
on BlogTalkRadio
Prime Engine (8-1)
A $110k purchase out of Keeneland September 2013 yearling sale, Prime Engine is the second son of out an unraced Dam. He ran lights out in two starts at Emerald Downs, a noted quick and hard surface that favors horses on or close to the lead.
His Pace Figures show a very good first time effort of 73.4/76.7, a Compression Line (COMP) Form Cycle Pattern followed by a 68.8/71.3 SOFT Form Cycle Pattern. He clearly appreciated the added distance and the SOFT lines references a horse that was not all out while winning.
He has a sharp owner (Dr. Mark Dedemenico), whose campaign such runners as Blind Luck with Hollendorfer as the trainer. He moved to Santa Anita in the middle of October and has a good work pattern with just one recent missing week (possibly due to travel). It's interesting to note that he skipped the Breeders' Cup (which Dedomenico could have easily nominated into), to face a lesser bunch for the same money.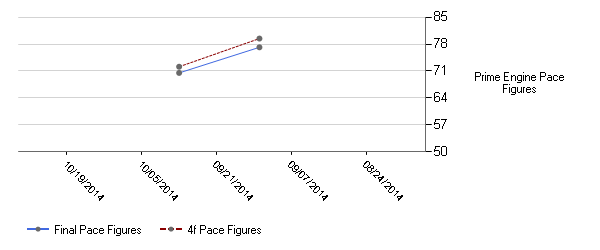 The Play: Contender – subtly competitive lightly raced northwest shipper, draws the rail and gets Russell Baze aboard. Value exists at 8-1 morning-line.
Dekabrist (30-1)
A $50k purchase from Fasig Tipton July, Dekabrist has shown little in his last four starts losing by a combined 76 lengths. His Pace Figures are not competitive in here at all.
They Play: Too Slow – period.
Mr. Z (5-2)
A $135k purchase from the Fasig-Tipton October 2013 sale, Mr. Z has competed in five graded stakes races, just one less than the entire field combined. He has 3 seconds and 2 fifths in those efforts which makes him the clear class of the race. He is also the only runner to exit the Breeders' Cup Juvenile where he ran a decent fifth beaten less than two lengths for second (after Texas Red won by 6+ lengths).
Trained by the Wayne "the Coach" Lukas and campaigned by Zayat Stables, Mr. Z brings first class connections to this Midwest affair.
Looking at his Pace Figures, he ran his lifetime top of 74 the race prior to the Breeders' Cup. And while he did run 72.8/79.9 at Santa Anita, he did regress in his final figure which was disappointing while increasing his 4 furlong number by 10 points.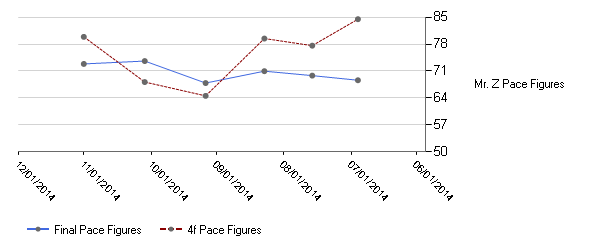 The Play: Regressor – this will be his sixth different track and seventh race, both a lot to ask of such a young horse, especially off a Breeders' Cup race and as a 5-2 morning line favorite.
Conquest Tsunami (4-1)
Another runner out of the Keeneland September Sale ($190k), Conquest Tsunami looks to have found his best stride last out. He wired a lesser field while running a 74.9/68.2 Reversal (REV) Form Cycle Pattern. The REV indicates the first time a horse runs a faster final figure than 4 furlong figure, which is a powerful predictor for lightly raced horses stretching out.
We would water down that Pace Figure description as the 74.9 was not only a lifetime top, both were on the lead in a race with a slow pace (as seen by Brisnet's 1c and 2c notes).
The Play: Regressor – on the fence about this runner, his morning-line odds of 4-1 gives little value.
Saratoga Heater (15-1)
Purchased out of the OBS April two-year old sale for $100k, Saratoga Heater is the only NY bred in the field. He's got back to back wins at 6 and 7 furlongs, and all three lifetime starts have been on an off-track.
Jockey Joel Rosario stays aboard and makes the trip out of NY for this million race. He's been off 62 days, and while not a long period of time it is significant as it is the longest layoff of all the runners.
"Heater" has run three consecutive form cycle patterns in a row, NEG – DTOP – NPT (most recent). While the NEG and DTOP are considered Form Cycle Regressors, the NPT is a positive pattern. Digging deeper into the figures themselves his last seven furlong race is significant. 86.3 (2f) – 79.3 (4f) – 68.3 (6f) – 68.9 (final). This major deceleration combined with stretching out to 8.5 furlongs will be a difficult task.
The Play: Regressor – front runner will ensure fast pace but distance questions make him a pass.
Golden Actor (7-2)
A $20k purchase from the Keeneland September 2013 sale, Golden Actor is the only starter in the field to have a race and win at Delta. And while on paper, his last race in a $200k stakes combined with torrid bullet works looks unstoppable, his Pace Figures tell a different story.
His last out DTOP Form Cycle Pattern of 71.1/68.8 indicates a runner who ran its best final and 4f figures in the same race and a strong indicator regression is forth coming.
The Play: Regressor – his final figure in his DTOP effort is too slow and at 7-2 morning-line, he is a complete underlay with no betting value.
Red Button (12-1)
The highest priced yearling purchase in the field at $260 (Keeneland September 2013), Red Button is the only runner in the field moving from turf to dirt. And, with two of his four lifetime races on the synthetic, this runner has only one dirt start lifetime in which he ran a 61 final figure.
His half brothers,
Grail Seeker
2007 and
Brannaman
2009, both showed more synthetic prowess than dirt.
The Play: Too Slow – and the wrong surface.
Wake Up Nick (10-1)
A $35k purchase from Barretts two-year old in training sale, Wake Up Nick has five wins and a second from his six lifetime starts. He's faced almost entirely state-bred runners which makes this Graded Stakes open class race, the most difficult of his career.
His Pace Figure line is of the rarest we've seen as all six of his lifetime starts showed a Form Cycle Pattern. His most recent effort at Santa Anita on Breeders' Cup Saturday was a 76.1/82.9, DTOP Form Cycle Pattern. As the track was lightning fast that day, both his final and 4f figures could be inflated.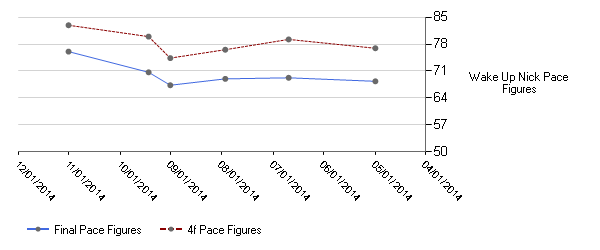 The Play: Longshot – if he can revert to his off the pace running style, he could rally late though winning would be a task on this 6 furlong, tight turn race track.
Far Right (10-1)
A $2,500 bargain from the Keeneland January sale, Far Right is by an obscure California stallion,
Notional
, who happens to be a very good dirt horse (4 for 6 lifetime for $700k), won three Grade III's as well as finishing second in the 2007 Florida Derby.
He raced well in his last effort into a speed bias, though the more important race was his prior start in the Grade II Futurity at Belmont. He ran into one of the top 2 year olds in the country,
Blofeld
, who went on to win the Grade II Nashua (8f) on 11/2 by five lengths. The third place finisher also came back to win which makes the Futurity a key race.
His Pace Figures are the most consistent of the field with his last five Final Pace Figures in a tight range of 71.4 to 73.6. He is on a Reversal (REV) Form Cycle Pattern which is the first time a runner has a higher final figure than 4f figure. This pattern is a sign of progression, especially on the stretch-out.
The Play: Contender – he looks to be sitting on progression with an established floor figure of 72. Morning-line of 10-1 makes for a real value play.
Ocho Ocho Ocho (6-1)
Bought for $200k at the OBS two-year old in training sale, Ocho Ocho Ocho is another runner shipping in after running on Breeders' Cup Saturdaywhen the track was lightning fast.
He has the fastest first lifetime race in the field with a 74/79.9 followed by his most 78.7/86.2 race on Breeders' Cup Saturday. Similar to Wake Up Nick, the 78.7 should be watered over a bit, but even with regression he still has the fastest Final Figure last out.
One of the best big race riders in the game, Mike Smith comes in from LA to ride, though the outside post can be considered a disadvantage.
The Play: Fringe Contender – there will be value but only if he can stay at his morning line of 6-1 or greater, which is unlikely with Mike Smith aboard.
Loading...