Predicteform Analysis of the Arlington Million
Arlington Million Race Analysis (8/16/14)
In-depth analysis of the Arlington Million including Pace Figures and Form Cycle Patterns of each starter. Please refer to the
Legend
or
Pattern Guide
for back-up definitions and patterns.
It's the 32nd $1,000,000 Arlington Million run at 10 furlongs on the turf for three year-olds and up. While it is a short field of seven, it makes for an interesting betting race as there are two European shippers likely to bet heavy and four Euro jocks competing.
Get the
Pace Figures
and
Past Performances
for the Arlington Million.
For an in-depth discussion of these figures as well as the all-stakes Pick 5 on Million day,
CLICK HERE
for both parts of the TwinSpires.com-Brisnet.com-Predicteform.com podcast.
Hardest Core (20/1)
A relatively unknown trainer and jockey team up with Hardest Core after running first or second in his last eight starts. The challenge is those races were against horses of much lesser caliber than he is facing today. From a Pace Figure perspective his last two races are 76.1 and 78.2, considered light at this level.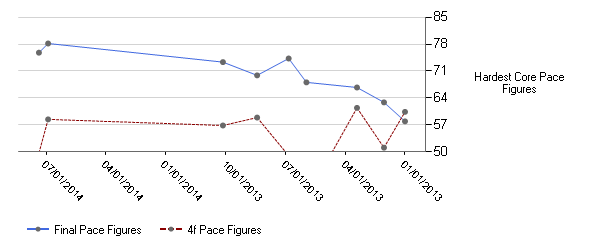 The Play: Too Slow – Combine slower figures with the fact that he has never run in a Graded Stakes race and it's asking too much.
Smoking Sun (9/2)
A Kentucky bred son of Smart Strike, who stands for $100,000, has primarily raced in France competitively against Group 2 runners. His most recent start was in Singapore in a Group 1 event for $1 million. What is interesting about his last race was the winner (Dan Excel) sat a perfect trip just off the front runner and easily glided to the outside to win while Smokin Gun came from 10th, weaving his way through traffic to make up 6+ lengths in the stretch finishing a very good second. The jockey had to be patient to get through traffic and really didn't use the whip much as he was clearly beaten due to the trip.
Note that Side Glance (#7) was in the same race, sat last most of the way and rallied for 5th, a good 5 lengths behind Smoking Sun.
The Play: Contender – The video of his last race looks much better than it does "on paper." And while he has never set foot in the US, there is real value here at 9:2 morning-line.
Magician (7/5)
A royally bred son of Galileo (one of the top sires from Ireland), Magician has raced against Group 1 horses (like US Grade 1) earning almost $2.4 million in his racing career. Champion Irish jockey Joseph O'Brien, one of the tallest jockey's ever at 5'11", makes the trip to Chicago to ride.
In both of his two most recent races at Ascot (just a few miles from Windsor Castle in the UK), he sat off the lead by some 12-15 lengths from a speed-ball front runner (who quit about 3/4th through the race and finished last). And while he did run 2nd on 6/18, he was easily beaten and just held on for second. His last start on 7/26 was not good; he really seemed to have no interest in running, though it could have been the soft turf and 12 furlong race.
He's got only one race in the US, in November 2013 in the Breeders' Cup Turf (at 12 furlongs), which he won in spectacular fashion posting an 81.5 with a 26 point turf spread (difference between final figure and 4f figure).
The Play: Regressor – An 81 final figure would win this race, but his last effort does not provide confidence plus he is coming off only 20 days race and shipping into the US. At 7:5 morning-line, the risk outweighs the reward.
Finnegans Wake (12/1)
This hard trying runner has faced stiff competition before, running against both Wise Dan (arguably the best US turf horse of all time) as well as Will Take Charge. In both cases as is the case for all five of his Grade 1 starts, Finnegans Wake was unable to challenge the top horses and has finished no better than fourth. He won his last race at Arlington Park in a Grade 3 ten furlong event stalking a very slow pace before barely (and I mean barely) holding on for the win.
It was not surprising to see a low Pace Figure of 66.9/42.4 and would expect he could get back to his more likely level of the mid 70's.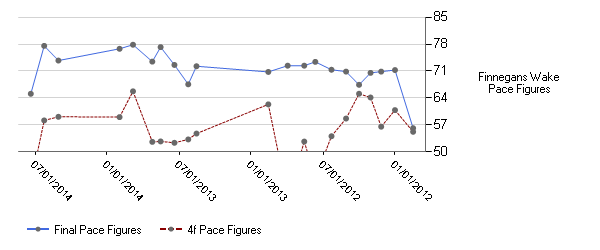 The Play: Too Slow – Not quite a Grade I horse plus a regression in Final Pace Figure will make it difficult for him to hit the board.
Up With the Birds (6/1)
He ships in from Toronto for Malcolm Pierce, the leading trainer at 30% (with a minimum of 20 starters by win percentage) at Woodbine. Little known by US standards, Eurico Silva gets the mount, he is the second leading jockey at Woodbine winning at a 20% clip. This is a serious racehorse, earning almost $1.3 million in 12 North American starts, including the Grade 1 Jamaica Handicap on 10/5/13 at 10f on the turf. He beat Jack Milton in that race who is rounding back into form, running 3rd in a Grade 2 stakes at Saratoga (beating odds on favorite Silver Max, while running into a monster horse called Seek Again).
His most recent figure of 79.5/60.7 (final/4f) is the highest of the field, though there could be a minor concern that the 79.5 was his lifetime turf top. Note however, turf runners can "pair up" lifetime tops unlike dirt where it is very difficult. Visually speaking, his performance was impressive coming from last with no effort (though the pace of the race was super-fast 1:09.4 for 6f), the jockey was obnoxiously standing up and pumping his fist a few steps before the wire, almost saying, "were back."
Up With the Birds typically runs from off the pace, though in this race, devoid of speed, his average 4f Pace Figure of 58.9 (using the Basic View summary here) will keep him closer to the front.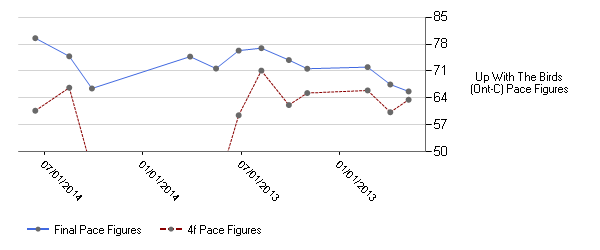 The Play: Fringe Contender – A classy horse who looks to be rounding back into form, another that could provide value in this short field.
Real Solution (5/2)
A winner of over $1.35 million, Real Solution ships in for leading US owner Ken Ramsey with the nation's top jockey Javier Castellano and one of the best trainer's for turf, Chad Brown. He won the Arlington Million
via disqualification after finishing second
last year and then got pummeled by Magician in the Breeders' Cup Turf. He won his last start on Belmont Stakes day, the Grade 1 Manhattan Stakes (also beating Seek Again). It was a weird race as early on, a longshot sprinter took a 12 length lead. It felt like there were two races going on, the sprinter out clear and the rest of the field in a pack. Javier put him in perfect position and when they turned for home it looked like the rest of the field was not advancing.
From a Pace Figure perspective, he ran a 79.4/51.7 (fastest lifetime turf race with a PLOW Form Cycle Pattern (Pace Low – when a grass runner's 4f figure is their previous minimum). Typically, if a PLOW pattern exists and the final Pace Figure is competitive, it would lead to an upgrade of a horse. However, in this case, due to the nature of the race (with a run-off speed ball), it's not convincing. One last note, Chad gave him a month's rest before starting his workout regimen on 7/6. He shows perfect spacing off a week between workouts for six consecutive weeks with one bullet work on 7/26.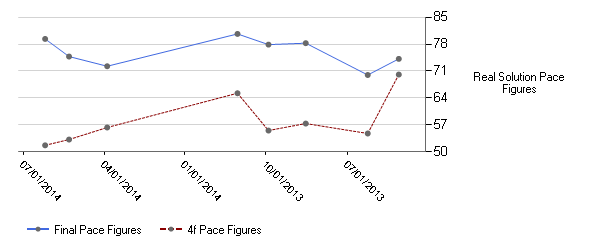 The Play: Fringe Contender – All that being said, something doesn't sit right with that last race. The final figure might be overinflated as a front runner did all the work. A possibility to use underneath, there is too much risk with limited reward to win.
Side Glance (8/1)
The third international horse in the race, Side Glance has already run once in the US prior to the Million, the Grade 1 United Nations at Monmouth Park. He floated to the lead in this 11 furlong turf race and ran hard to the wire holding on for third. He also ran third in the Arlington Million in 2013 posting a 77.4/60 (final/4f).
On 11/2/13 he won the Group 1 ($940k) MacKinnon Stakes, his best lifetime effort by all accounts. It was an impressive race visually, as he again floated to the lead at the half mile and held every step of the way. Even past the wire, the two upcoming challengers were unable to get by. His form tailed off following that win which brings us back to his current form.
His Pace Figure for his most recent start was 74.9/62.4, a couple points down from last year's Million effort which is not surprising. His average 4f Pace Figure is the highest in the field at 62.5 which very likely means he will be on the lead which is what you want in this race as they start on the turn.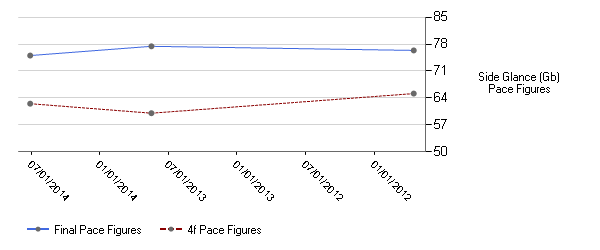 The Play: Contender – Last effort was a good prep and his speed combined with some depth (meaning heart) could make him a value play in the field.
Loading...