Predicteform Breeders' Cup Distaff Analysis
In-depth analysis of the 2014 Breeders' Cup Longines Distaff including Pace Figures and Form Cycle Patterns of each starter. Please refer to the Legend or Pattern Guide for back-up definitions and patterns.
The Breeders' Cup Longines Distaff is run at 9 furlongs for fillies and mares, 3 years-old and up for a purse of $2mm USD.
The Distaff goes as the 9th race on
Friday, October 31st
with post time scheduled for
7:35ET
/4:35 PT.
The race will be live on NBC Sports Network as part of their three hour coverage from
5-8 pm ET
(as will the three other BC races scheduled for
Friday
).
Get your FREE
Pace Figures
and
Brisnet Ultimate Past Performances
for the Distaff.
L'Amour de Ma Vie (15/1)
Originally sold in the US at Keeneland,
"The Love of My Life"
returns back to the US for her first time, to race on dirt for her first time against some of the best female routers (>a mile) in the world. She's raced in four countries (England, France, Italy and U.A.E.) and likely has more frequent flier miles than the field combined.
Her dam (mom)
Cuaba
, was more of a dirt sprinter and she is the only foal to race from the dam. She draws the rail and combine that with her dam's sprinting style and you are likely looking at one of the pace setters.
The Play: Too Slow - Too many firsts create too much of a risk, even at 20-1 morning line odds.
Tiz Midnight (10/1)
The most lightly raced horse in the field, Tiz Midnight has seven lifetime starts in her short four year old career. After four starts as a maiden and two allowance wins, she took the big jump into Grade I stakes, running a close second to Beholder (the early favorite in the race before she was scratched).
This will be her first start at 9f for the West Coast training legend, Bob Baffert. Her last four races, which were the best four of her career, all came on the front end. Her 4f pace figure average (via the view basic tab on the pace figures) indicates she averages a 71.8 for 4f, the second highest of the group behind, you guessed it, Closed Hatches.
She is the
only
horse on a Form Cycle Pattern, as she is sitting on a NPT (New Pace Top) which is one of the strongest indicators of future progression. Tiz Midnight is the first foal out of
Tough Tiz's Sis
, a Grade I winner campaigned by the same owners and also trained by Baffert, though she was 0 for 4 at 9f.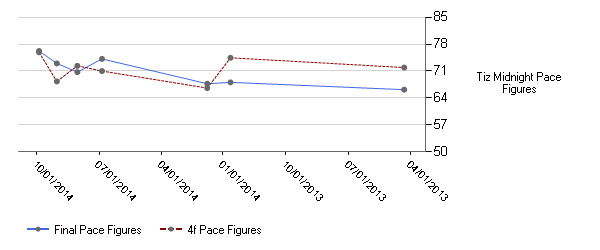 The Play: Fringe Contender – Solid Form Cycle line with a New Pace Top and 10-1 morning line odds make this lightly raced filly very interesting.
Iotapa (6/1)
A multiple Grade I winner, Iotapa is 7 for 7 in the money at Santa Anita (the best record for any of the runners), yet she has not been able to compete with the best on the West Coast. As well, she has encountered short fields of four and five competitors in her last four starts and based on her positive races will be forced to go to the lead (as it looks like she doesn't like dirt in her face off the pace). Her final figures have been mostly in the mid 70's which is not competitive with this group.
The Play: Too Slow – though would not be surprised to see her go for the lead helping ensure an honest pace up front.
Belle Gallantey (6/1)
A new horse since claimed for $35k in late December 2013, Belle Gallantey has risen up the ranks to center stage competing against the best mares in the country. After a lackluster 2013 where he won just 1 of 14 races, she has rattled off five wins in seven starts in 2014 for Journeyman NY trainer Rudy Rodriquez (who has never had a Breeders' Cup starter), including two Grade 1's while earning $850k.
She has been beaten soundly by Closed Hatches in two of her last four starts. Her Pace Figures show a pretty consistent line of 78.5 – 62.2 – 80.5 – 77.5, especially if you flush the 62.2 8/22 effort on the muddy track in upstate NY.
The Play: Longshot – with a trainer, jockey and owner all amongst the best in NY, she might get overlooked at the betting windows on the West Coast.
Unbridled Forever (20/1)
A hard-trying filly who has been in the money (without winning), in five of six graded stakes this year, Unbridled Forever faces the toughest field of her career. She has raced twice against Untapable losing by a combined 20 lengths.
While her last Pace Figure was a competitive 78.4, it was a 10 point top off her prior race and a likely indication that regression is forthcoming.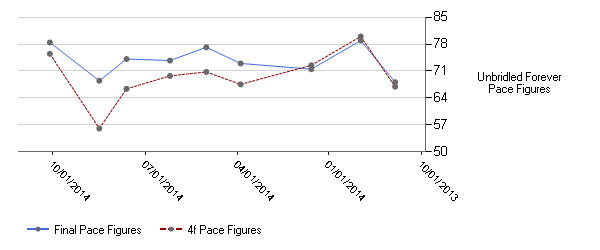 The Play: Regressor – outclassed and very unlikely.
Stanwyck (20/1)
Beaten soundly by at least three competitors in the field, Stanwyck heads back to Santa Anita where her trainer and owner are stabled. She has been in the money in all four starts at Santa Anita Park, though she has only won one race in two years and has zero wins in 2014.
Her Pace Figures are a good step down from most of the competitors.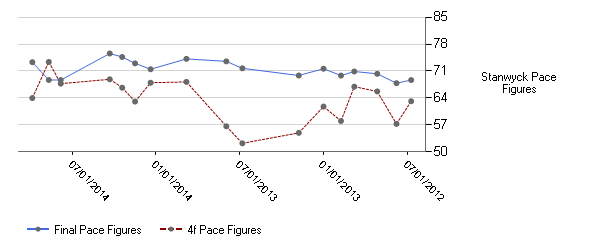 The Play: Too Slow – much too slow, though her appreciation of the track could make her a longshot to round out the Superfecta (if one goes that deep).
Don't Tell Sophia (5/1)
Her first Grade I Stakes win came at the hands of Closed Hatches as Don't Tell Sophia made the difficult jump into the Grade I level. She has been in the money her last 13 races and her late running style should suit the 9f distance. Originally bought for $1k (that's right $1,000) as a yearling, she has earned close to $1mm in her career already. The oldest runner in the Distaff field at six, she looks to be finally coming into her own.
Her most recent win was a 79.5/63.4 and while it looks a little "toppy," she does have a 79.9 a year ago which reduces the chance that the 79.5 was her lifetime best. Also note that the 79.9 was on 11/2/13, the weekend of the Breeders' Cup. Her connections did not send her to Santa Anita last year and wisely stayed home and took down a Grade II stake at Churchill.
Her dirt spreads are ultra-consistent (dirt spread = final figure minus 4f figure) with a 16, 16 and 15 in her last three starts.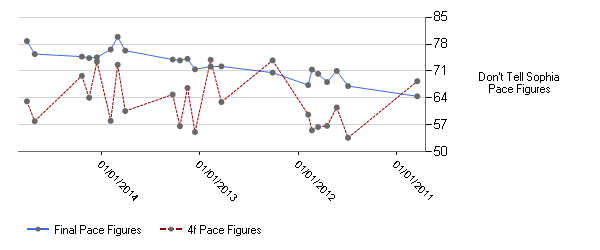 The Play: Fringe Contender – at 5-1 morning line odds, there is value that says she can run back a similar type race which puts Sophia right in the mix, just don't tell her.
Valiant Emilia (20/1)
One of two international runners, Valiant Emilia ships in from Peru after winning 11 of 23 starts lifetime for $81k, the lowest bankroll of all the runners.
We found and watched her last Group 3 race in Peru. She followed slow fractions all the way around (24:2, 49.2, 1:16), when they turned for home the front runners were done and she cruised to victory.
The only plus is she picks up West Coast leading jockey, Rafael Bejarano.
The Play: Too Slow – she looks completely over her head. Our top choice to finish last.
Ria Antonia (15/1)
The fourth runner having last raced in the Spinster, Ria Antonia put away Closed Hatches early before being caught late by Don't Tell Sophia. She was the story in last year's Breeders' Cup Juvenile Filly race as she finished second at 32-1 but got moved up to first on a disqualification.
Beyond that DQ win, she has only won one other race, and is 1 for 13 lifetime hitting the finish line in front.
Her most recent figure of 77.8/74.7 is a clear lifetime top but it is not a DTOP (Double Top Form Cycle Pattern) as the 74.7 was not a lifetime best at 4f.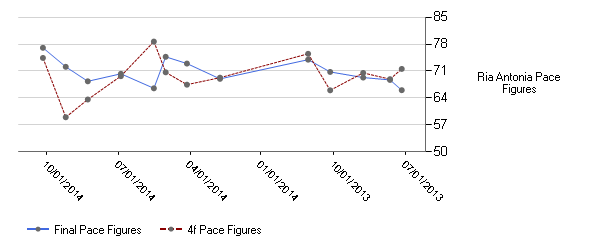 The Play: Regressor – more likely that she regresses off the 77.8 than moves forward, her success on the front end in the Spinster might encourage a similar type of close to the front trip.
Untapable (5/2)
Widely held as the best filly in the country, three year-olds or otherwise, Untapable is a three time Grade I winner who has earned over $1.7mm in 2014. Her owners took a big swing running against the boys in the Grade I Haskell on 7/27 and there was some minor concern that after getting banged around and running fifth, she might have lost confidence. Her win in the Grade I Cotillion on 9/20 showed no such thing and by the look of the tote board in every start against fillies and mares this year, she will be the favorite.
Her Pace Figures are strong, having not run worse than a 76 in any start this year. After posting an 82.1/71.8 in the Kentucky Oaks she regressed 6 points to a 76.2 followed by a 76.9 and her most recent 78.1. She earned a 75.2 4f figure her last out which was arguably the fastest of her career (not taking into account that horrible BC Juvenile from 2013). If her 4f figure was .8 higher she would be sitting on a NPT, but in either case, and visually speaking from the watching the race, she could be more interested in being close to the pace, though drawing the 10 hole with Closed Hatches speed outside could be a challenge.
Untapable faces older mares for the first time in her career as she looks to make her final mark of the year and prove she is the best female horse in the country.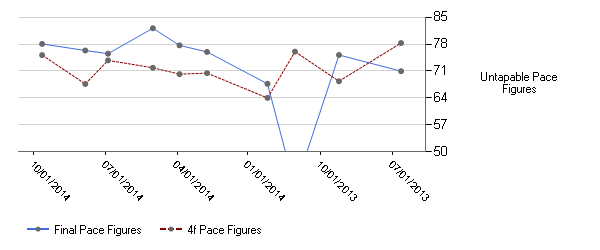 The Play: Contender – she is ultra-competitive in all aspects of her game but as the morning-line favorite, there is limited value on top.
Close Hatches (3/1)
The runner-up in the race last year to Beholder (who is out), Close Hatches is a five time Grade I winner that's banked over $2.7mm, the most in the field. She was on a four race win streak since the 2013 Distaff when she faltered badly in her last out as a 1-5 favorite.
She packed it in at the 6f mark and barely held on for fourth. Maybe it was the track or the preceding insane heavily pressed work pattern, but this is not the effort one wants to see coming into a $2mm Breeders' Cup race. At 5-2-1-0 ($845k) at the 9f distance, it could also be noted that this is not her top distance.
From a Pace Figure perspective she showed a two point forward move off the 8/22 NPT (New Pace Top – fastest four furlong figure while not running a lifetime top final figure and strong indication of progression) Form Cycle Pattern, but her obvious visual regression in the race is even more of an issue off an expected forward move off the NPT.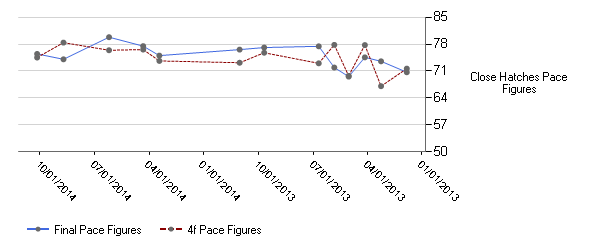 The Play: Regressor – The outside post with a long run into the first turn, 3-1 morning line odds make her tough to back, especially off a poor race at a distance where her lifetime top is 76.
Loading...