Predicteform.com Pennsylvania Derby Analysis--Taking a Shot Against Chrome
In-depth analysis of the 2014 Penn Derby including Pace Figures and Form Cycle Pattern of each starter. Please refer to the Legend or Pattern Guide for back-up definitions and patterns.

The Grade 2 Pennsylvania Derby with a purse of $1 million will be run at 9 furlongs on the dirt for three year olds and up. California Chrome will make his long-awaited return to the track after his gallant Triple Crown effort. Catch ABR's live coverage of the race which has a post time of 5:40 pm ET on Saturday, September 20th.

Get the Pace Figures and Past Performances for the Penn Derby.
California Chrome (1/1)

Here's what we had to say about California Chrome prior to the Belmont Stakes:

Pace Figures are remarkable, but this is a runner who makes his third start in five weeks. Are you willing to back a runner who will likely have a slower Final Pace Figure in his effort to win the third leg of the Triple Crown? It's a tall task for any horse, especially one that is not likely to take another step forward. He is just a little more likely than not to win the race, yet likely will not have value at less than even money.

Chrome has taken an interesting path back to the track after being turned out (horse vacation) for two months, trainer Art Sherman has worked him on a perfect seven day pattern with a couple bullet works sprinkled in.

He traveled well back to Philly looking to return to his glory as the media coverage awaits at PARX Racing. He is sitting on 105 days rest or coming off a 105 day layoff, in either case he's had twice as much time between races as any other runner in this field.

There is no question that on his best day Chrome should dominate this crew. He is however, from a Pace Figure perspective, coming off a five point decline in his Final Figure with his lowest 4 furlong figure lifetime. There is some excuse given the 12f distance, but nonetheless, stepped on or not, his Belmont Stakes race was regression.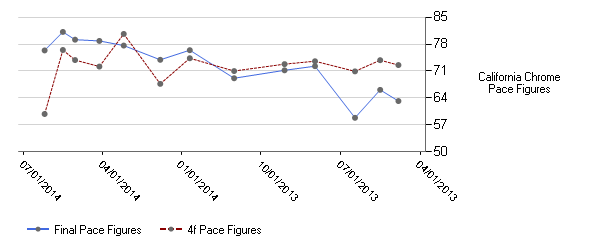 The Play: At what is expected to be well below even money, given the network coverage and fan base, there is little value to play him on top. $12,925,898 was burned on him to win Triple Crown in NY, we'll see how much of that money flocks back.

Candy Boy (10/1)

After his Derby disappointment, Candy Boy has run two good races, finishing a distant second to Shared Belief, the Breeders' Cup Classic current future book 2-1 heavy favorite at the Wynn Las Vegas . His most recent West Virginia effort was good, though it did take him almost the full length of the stretch to get by Vicar's in Trouble (who came back to dominate the Louisiana Derby in a Final Pace Figure time of 77, a very good final figure at notoriously slow surface). Jockey Joel Rosario gets the mount, a positive jockey change, especially in a graded stakes race.

From a Pace Figure perspective, he most recently ran a 75/72.3 NPT Form Cycle Pattern (New Pace Top – fastest 4f figure of his life combined with a final figure that is within 4-6 points of his lifetime top). His race prior was a 78 Final Figure at Los Alamitos, a decent figure up against Shared Belief.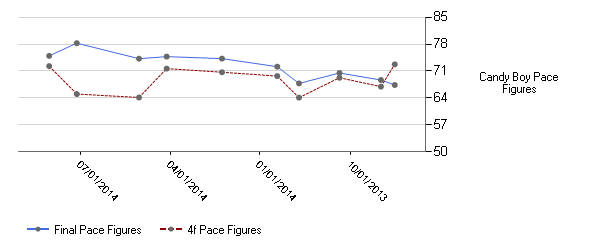 The Play – Fringe Contender – While his final figures don't look strong enough to win, his positive Form Cycle Pattern (NPT) and jockey change are appealing and put value on him as a double digit runner.

Protonico (8/1)

One of two runners with only five starts lifetime, Protonico missed the Triple Crown trail as a late developing three year-old. He showed a real turn of foot in the Grade III Smarty Jones making up four lengths in the last 1/16 of a mile. And, while Joe Bravo gave him a heady ride, leading trainer Todd Pletcher teams up with Javier Castellano, his regular rider and top jock in the country.

Turning to his Pace Figures, he has a Form Cycle Pattern in all his starts as a three year old. His effort on 7/25 was a REV Form Cycle Pattern (the first time a horse's final figure is greater than his 4f figure). He got beat by VE Day (who went on to win the Travers) after diving to the slowest part of the track that day (the inside). He put up a 76.2/79 in his most recent race (the Smarty Jones), a DTOP Form Cycle Pattern (Double Top – highest 4f and final figure in the same race, an indication of potential regression).

In this case, given he is a lightly raced three year-old, the improvement of 3 points from the top final figure and just a point from the top 4 furlong figure could be interpreted as improvement and a positive Form Cycle Pattern.




The Play – Fringe Contender – There is something to be said for his race over the surface, brilliant turn of foot and jockey change, and at 8:1 morning line, he is worth a hard look.

Bayern (7/2)

Here's what we had to say about Bayern prior to the Travers:

The 81.8 and 81.2 final figures in his two most recent races are considered "paired up tops (PUT)", meaning he ran two lifetime tops back-to-back which is not necessarily a point from which a horse can move forward. Expected to be the race favorite and the fastest out of the gate, the competition in here is tougher than the Haskell and with paired up tops the value needed is not going to be there as in his previous two wins.

Bayern knows only one way to the winner's circle and that is on the lead. Following his not surprising collapse in the Travers (see above), Baffert brings him back to California, gives him just over two weeks rest and ships him back to the East Coast for the fifth consecutive time. This transcontinental trip for two workouts has got to take a toll on even Grade I winners (which he is).

Looking at his Pace Figures, and as mentioned above, his regression from a pair of 81 final figures to a 69 was not a shocker. He does cut back in distance to his preferred 9f which will help carry his speed, the question is whether he can return to his form of an 81 (or close) final figure.




The Play: Regressor – a proven all or nothing horse, it is a reach to expect an immediate return to his Haskell form, especially as the 7:2 morning-line second choice.

Noble Moon (15/1)

Sent off at 20-1 in his last two starts (both in Grade I races), the connections of Noble Moon continue to race him against the top Grade I three year-olds, when in fact he looks to be more of a Grade II –III competitor.

His Lifetime top Pace Figure came two back on 4/5 when he ran a 76.2 final figure while finishing sixth in the Wood Memorial. His most recent effort of 75.4 was an expected tail off.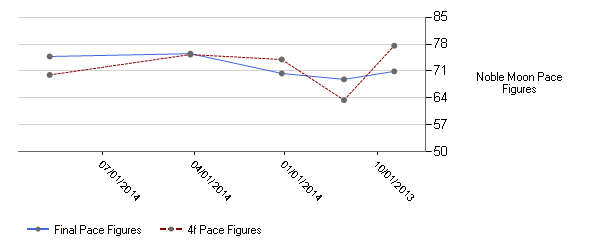 The Play: Too Slow – His best lifetime effort would likely not hit the board.

Classic Giacnroll (15/1)

With two lifetime wins in his first two races, Classic Giacnroll looked like he could have Graded Stakes potential. Since that effort he is 0-8 and has tried both Grade II and III competition with minimal success, putting up two seconds and fourths.

Using the "basic view" to look at his lifetime final Pace Figure average, it is just 68.8, at least 4-7 points less than the other competitors. It is interesting to note that he did run a NPT Form Cycle Pattern (New Pace Top – best 4f figure combined with a final figure that is not a clear max), which is typically a positive. However, in this case, notice the six and eight point increases from his previous races Pace Figures and it looks more like a top.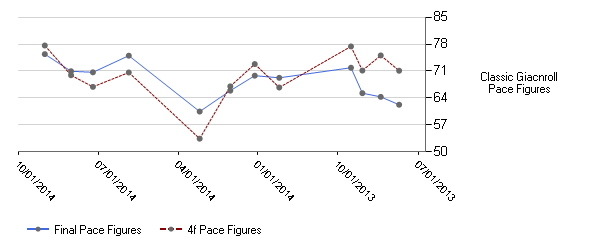 The Play – Too Slow: looks like a runner that is both too slow and sitting on a regression.

Tapiture (5/1)

Once considered a Derby favorite after winning the Southwest Stakes in February, Tapiture peaked a bit too early in the spring to be competitive in the Derby. He's rounded nicely back into form and has shown he is clearly a very capable Grade II and III winner with a record of 6-4-1-1 facing that level of company. He's stayed the course running all of his races in the southeast part of the country, which means he will be well suited to run at this race course.

He showed a strong turn of foot in the West Virginia Derby after being pinned on the rail and rallying three wide in an easy fashion to win. As mentioned previously, he also beat Vicar's in Trouble.

Turning to his Pace Figures, he is the type of horse that when he is on, he is on. His race two back was a NPT Form Cycle Pattern (see above), where he established a solid lifetime top of 78. He followed that effort up with a 74.6/72.2, winning the West Virginia Derby while posting an SOFT Form Cycle Pattern (an indication that a runner won the race within himself and without over-exertion). Take note that his one SOFT pattern (on 2/17) was followed by a two point progression, which is an indication that he could move forward again.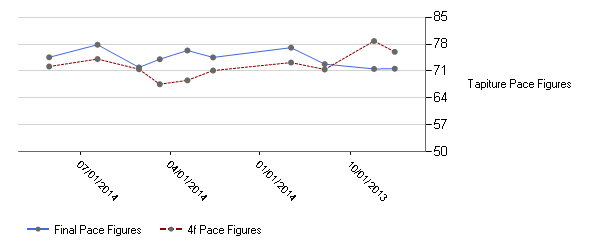 The Play: Contender – he is in sharp form, on a positive Form Cycle Pattern and at a 5-1 morning line and likely higher by post, there is good value on top.

CJ's Awesome (12/1)

With only $118k in purse earnings and two wins (against Maidens and non-winners of more than one race), CJ's Awesome is anything but. He draws the outside post with journeyman Edgar Prado and has shown he has only one running style – going to the lead.

From a Pace Figure perspective, his last race was a 77 final figure which was a lifetime top, though his 4f figure decrease does show a better ability to manage speed.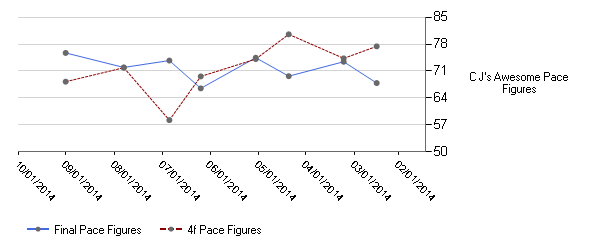 The Play: Too Slow – a big jump into Graded Stakes company against a couple of the top horses in the division, his early speed could ensure an honest pace.


Loading...