Predictions for Top 5 in the 2016 Thoroughbred Handicap Division
Tonalist is now retired. So is Honor Code. So is Liam's Map. So is American Pharoah. Shared Belief has passed away. Is there anybody in the Handicap Division to look forward to running in 2016? There absolutely is! Due to an exceptional 2015 Class of three-year-olds and the return of California Chrome, 2016 could be an awesome year for the Thoroughbred Handicap Division. A lot of these horses are supposedly shooting for the Dubai World Cup. Let's hope that every horse listed below stays healthy for all of 2016.
Top 5 2016 Horses - Handicap Division
1. California Chrome -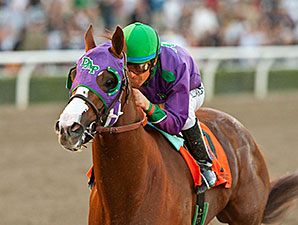 He's been working steadily. Art Sherman hasn't said where he's going to race next. He's possible for the San Pasqual Handicap on Jan. 9 before traveling to Dubai again for the Dubai World Cup. California Chrome finished second to Prince Bishop but ahead of Lea at the 2015 Dubai World Cup. Why not send him out there again?  Then, Chrome might get a break before resuming summer racing for a try at the Breeders Cup Classic at Santa Anita next fall.  Chrome is the unquestioned head honcho of the Handicap Division now that all of his competition has retired or passed away.
2. Dortmund - 
Hopefully, Dortmund will take a break some time in the spring before the summer racing starts so that he's fresh for the Classic. It looks like that may be the path that Bob Baffert has the giant son of Big Brown on. Dortmund is scheduled to run in the G1 Malibu on Dec. 26, opening day at Santa Anita, before facing California Chrome in the San Pasqual. Baffert is also likely to send Dortmund to the Dubai World Cup for a face off with Chrome again unless Chrome beats him too badly in the San Pasqual. Bob Baffert has won the Dubai World Cup with Silver Charm in 1998 and Captain Steve in 2001. Now that Shared Belief has passed, Chrome versus Dortmund might be the rivalry to watch in 2016.
3. Effinex - 
His win over Hoppertunity in the Grade 1 Clark Handicap on Nov. 27 was a turning point for the James A. Jerkens trainee. Effinex has a ton of quality. We should remember that he finished second to American Pharoah in the Breeders Cup Classic. He finished ahead of Honor Code and Tonalist in the Classic. If the son of Mineshaft has really put it all together, he could definitely challenge Dortmund and California Chrome for the top spot. Like Chrome and Dortmund, Effinex is possible for the Dubai World Cup according to horsracingnation.com. The likelier path is for Effinex to pick up checks on the New York Circuit, where Jerkens is based, while the big time California horses battle it out in the United Arab Emirates. Don't be surprised if Jerkens sends Effinex to Santa Anita for the 'Big Cap in March or Awesome Again Stakes next fall. He might want to give his a horse a race over the Santa Anita dirt.
4. Frosted - 
The Kiaran McLaughlin trained three-year-old winner of the Pennsylvania Derby couldn't keep up in the Breeders' Cup Classic. Expect Frosted to show up in the Dubai World Cup, though, since Godolphin owns the Tapit three-year-old. Godolphin has won 6 Dubai World Cups:  Dubai Millenium in 2000, Street Cry in 2002, Moon Ballad in 2003, Electrocutionist in 2006, Monterosso in 20012, and African Story in 2014. Frosted should improve big time in his four-year-old season. Most of Godolphin's horses do. Godolphin might pull Frosted back to Meydan Racecourse to prepare for the Dubai World Cup early in 2016 before shipping him back to the States for the summer races.
5. Smooth Roller -
The four-year-old gelding has every right to be a force in 2016. He's extremely lightly raced having only raced 4 times so far. His Awesome Again win was absolutely fantastic. He was going to be the horse that pressured American Pharoah in the Breeders cup Classic, but trainer Victor Garcia and owners Lucky Charm Stable decided to scratch him. The guess is that he needs more seasoning. He may show up in the San Antonio on Feb. 6 before trying the 'Big Cap on March 12. If California Chrome, Dortmund and Frosted are all pointing for the Dubai World Cup on March 26, the 'Big Cap could be easy pickings for the Hard Spun horse if Effinex doesn't show up.
Loading...