Questionable Call by the Stewards in Beverly D.
In my over 20 years of betting on horses, I've been both helped and hurt by stewards making questionable calls. Yesterday, the stewards at Laurel Park helped me a lot in Race 6. I had money riding on the winner of the race, Pirate's Cove. The gelded son of Malibu Moon was the second choice at 2 to 1 in the $16,000 Claiming Race going one mile over the turf.
I had a trifecta with Pirate's Cove keyed over Royal Wells, the even money chalk, and Fuse Line, going off at 11 to 1, in the place spot while I hit the ALL button for the third spot. Pirate's Cove won the race. As luck would have it,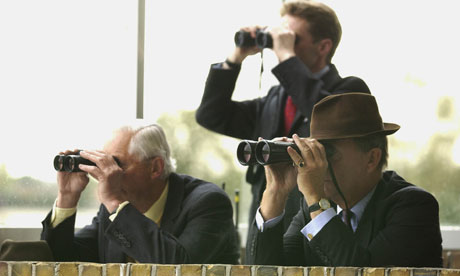 the stewards at Laurel took down Royal Wells, who finished second, for interference in the stretch. Royal Wells caused Pirate's Cove to knock Fuse Line who impeded La Reine's Gem from continuing a nice move up the rail. The stewards dropped Royal Wells all the way to fifth, behind La Rein's Gem. The trifecta ended up Pirate's Cove, Fuse Line and Artie's Flight who was going off at 7 to 1. Instead of a 2-1, even money, 11 to 1 or 7 to 1 trifecta,
the trifecta ended up 2 to 1, 11 to 1 and 7 to 1
. It paid $157.80 for a dollar. I also hit the $2 exacta at $57.80 three times and had a nice win bet on Pirate's Cove.
But, here's the thing: if DQ'ing Royal Wells was questionable, and I do think that it was even though it benefited me, how could anyone doubt that the stewards made a mistake at Arlington Park a couple of hours later when
taking down Secret Gesture in the Beverly D. and placing her third
? Take a look at the
Beverly D.
again. I'm sure most of you have already seen the replay, but it appears that Jamie Spencer had already switched to the right stick, to keep Secret
Gesture from drifting further right, before Stephanie's Kitten had reached Secret Gesture. To me, it looked like Secret Gesture wasn't really drifting that much when Irad Ortiz Jr. pulled Stephanie's Kitten up as if she were going to run onto Secret Gesture's heels. That and the fact that Secret Gesture was so close to the finish line make me believe that the stewards made the wrong call.
Why is Spencer trying to straighten his horse important? It's important because one of the reasons that the stewards at Santa Anita decided not to take down Bayern in the 2014 BC Classic, when Bayern took both Shared Belief and Moreno out of the race at the start, is because
"Mr. Garcia corrected his horse immediately"
after the incident. The stewards went on to say that taking Bayern down would not have "changed where both Shared Belief and Moreno placed". The problem with that thinking is that Moreno was the other speed in the race. He would have been on the lead with Bayern if Bayern hadn't taken out Shared Belief who then took out Moreno.
By causing a chain reaction like that, Bayern affected 
every horse
in the race. The pace was not what it could have been. Toast of New York, who ran an awesome second, may have won with a livelier pace. Bayern did what
Royal Wells did in Race 6 at Laurel on Saturday. Royal Wells got placed fifth. Bayern ended up winning the lion's share of a $6M race while Secret Gesture in yesterday's Beverly D. ended up losing a Grade 1 for doing nothing except soundly beating her competition. This in no way reflects badly on Irad Ortiz Jr. He did exactly what I would have expected him to do if I owned Stephanie's Kitten. He knew he was beat and he threw in some acting. That's why Irad has become one of the top jockeys in the country, maybe, the world. He just gave a fantastic ride aboard Drama King in the third at Saratoga today, Aug. 16, to upset 3/5 Uncle Sigh.
Like Irad, Jamie Spencer is a terrific jockey.  It's a shame that Secret Gesture and he will have to fly back over the Atlantic with a third place finish in a race that they dominated. According to the Paulick Report,
Secret Gesture's connections are considering appealing the steward's decision
in the Beverly D. They should because the steward's decision turned out to be yet another questionable call in a high-profile race.
Loading...