Top 5 2015 BC Classic Rankings
The Southern California Legend that is
Richard Mandella
 proved why he continues to be one of the top thoroughbred conditioners in the world when Beholder dominated her rivals in the 2015 Pacific Classic by 8 1/4 lengths. It was the most impressive victory by any horse that many handicappers, me included, have seen this year. She
dominated her male rivals, which included 3 Grade 1 winners in Hard Aces, Hoppertunity and 2014 BC Classic winner Bayern. Check out the replay of the
2015 Pacific Classic
.
According to Mandella in a  
Paulick Report
article, he is thinking about
sending her to the Grade 1 Zenyatta Stakes on Sept. 26
. Hopefully, the Zenyatta will be a warm-up for Beholder's date with destiny versus Triple Crown winner American Pharoah in the 2015 Breeers' Cup Classic. Pharoah has at least one more race to go this Saturday in the Travers Stakes before any thoughts of a Classic showdown will take place.
Beholder ran the fastest Beyer figure of any G1 race this year. She beat Honor Code's 113 according to the same
Paulick Report
article by garnering a 114 in the Pacific Classic. The way that Beholder dominated the P. Classic is a sign that horseplayers and racing fans could be in line to witness the greatest BC Classic ever. Beholder and Triple Crown winner American Pharoah are both stalkers. If both champions make the race, they'd be the two favorites with Honor Code a possible co-second choice depending on the expected pace.
Front runner Liam's Map will likely be the horse to catch. He ran Noble Bird, the other likely front runner on the
Breeders' Cup Classic Contenders'
list, into the ground in the Whitney Stakes. He's a long-striding son of Unbridled's Song who lost by a nose to Honor Code, meaning that he too ran an incredibly fast Beyer figure. The likelihood of Bayern making the race isn't very good, meaning that Liam's Map could be an attractive lone speed entrant into the 2015 BC Classic.
Top 10 2015 BC Classic Rankings
1. Beholder - 
The ease in which she ran past her rivals in the Pacific Classic was awe-inspiring. She's got a couple of years on American Pharoah, Mandella has conditioned her brilliantly, and she's proven against tough competition. Oh, and
Mandella has the record for most money won on a Breeders' Cup Day
.
2. American Pharoah - 
He could obliterate the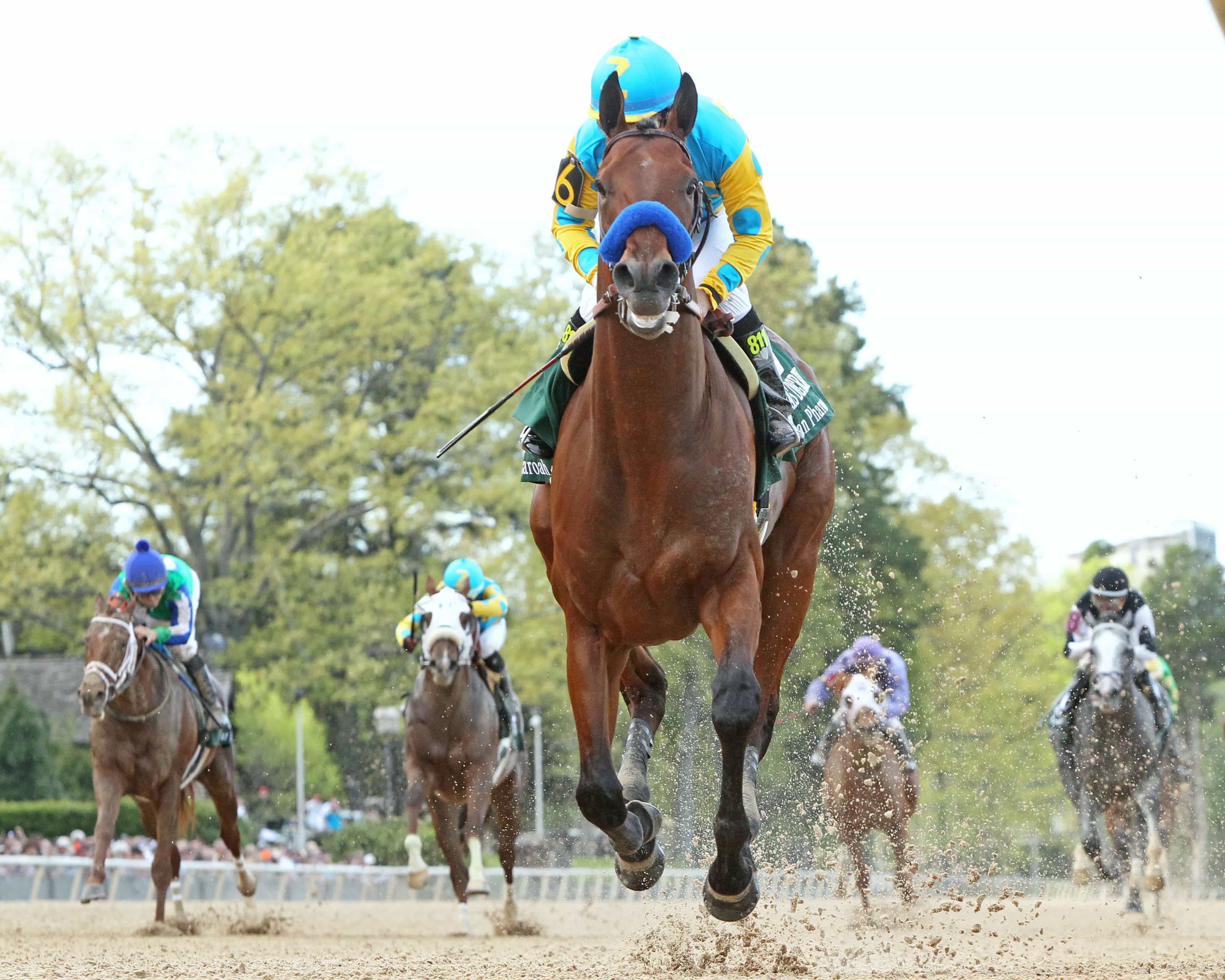 Travers Stakes field this Saturday and then he'll be number one on everybody's list. American Pharoah is a Triple Crown winner. But, and this is important to note, trainer Bob Baffert has won only a single BC Classic, with Bayern in 2014. That race was not without controversy. If American Pharoah destroys his competition in the Whitney, including tough 2-year-old champion Texas Red, his next race will probably be the Awesome Again Stakes where he'll face older for the first time in his career.
3. Liam's Map - 
He was awesome in the
2015 Whitney Stakes
. Considering that Saratoga's dirt hasn't yielded a ton of front runners this summer, Liam's Map's performance has to be considered one of the best this year. He ran 6 furlongs in 1:09.72 and still looked like a winner.
Let's hope that he makes the starting gate for the BC Classic. Liam's Map could be very tough if allowed to set soft fractions in the Classic and no other true front runner, except maybe Constitution or Noble Bird, looks to be pointing to the Classic.
4. Tonalist - 
Yes, he finished behind Honor Code in the Whitney Stakes. Watch the race again. Tonalist was coming on strong. The issue is that Honor Code got the jump on him. The situation should be reversed in the BC Classic with Tonalist a bit quicker to the pace while Honor Code lags behind again. While Beholder, Liam's Map, American Pharoah and Honor Code may have already shown their best, Tonalist could be ready to show his best on Breeders' Cup Day.
5.
Honor Code
- There's no gutsier horse in American right now. There are two issues betting on Honor Code to win the 2015 BC Classic, which are the same two reasons why he's ranked fifth on this list. First, he needs a seriously fast pace in order to win the BC Classic. Liam's Map is likely to get much easier fractions in the BC Classic then he got in the Whitney. That will put Honor Code at a disadvantage. Second, it's going to be difficult to navigate through such a large field in the BC Classic. Plus, he could be chasing Beholder and American Pharoah dueling on the front end.
Loading...