Travers or Pacific Classic for American Pharoah?
The Mid-Summer Derby would be American Pharoah's toughest test to date. Even after winning the Triple Crown, even after dominating in the Haskell Invitational, American Pharoah would have to prove his quality at least one more time versus one more of his peers. Texas Red, who won the
Breeders' Cup Juvenile in 2014
, looked sensational when taking home the
Grade 2 Jim Dandy Stakes
a day before Pharoah destroyed his competition in the Haskell Invitational.
Granted, Texas Red didn't beat much save for Frosted in the Jim Dandy. But it was a breathtaking performance. The very talented Japan carved out easy fractions on the lead over the Saratoga dirt before Texas Red closed the gap with a rush. Then, the BC Champion had to hold off Belmont second place finisher Frosted who had every right to go past Texas Red in the stretch.
Texas Red has an electrifying turn of foot. More importantly, he has a win over the Saratoga dirt and it's been well-documented how difficult winning the Travers has been for American Pharoah's trainer, Bob Baffert.
Perhaps, this is why even though owner Ahmed Zayat has stated that
he definitely wants American Pharoah to run in the Travers Stakes
, Baffert hasn't made a decision yet. Could Texas Red be the reason why Baffert is playing his cards close to his chest?  By himself, no. The son of Afleet Alex is extremely talented. He's easily the second best three-year-old in this class based on his Jim Dandy win, but American Pharoah is a special horse. Now, a horse of Texas Red's caliber over a track that some horses detest and have trouble running over?  Yes, that could sway Baffert to enter American Pharoah in the Pacific Classic to face Richard Mandella's West Coast monster, Catch A Flight.
There are a few of other reasons that might sway Baffert to enter Pharoah into the P. Classic.
1. The Todd P. Factor - 
Todd Pletcher knows Saratoga better than any trainer on the planet. Madefromlucky has turned into a very good three-year-old. The son of Lookin' at Lucky ran a bang up race in the West Virginia Derby to win easily. He ran as fast as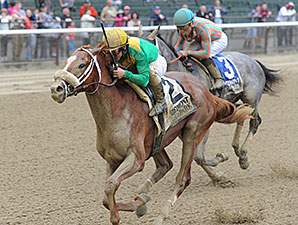 American Pharoah, based on at least one speed rating, did in the Haskell. Granted jockey Victor Espinoza really geared American Pharoah down in the Haskell. But Pletcher has a tendency to turn his three-year-olds who didn't look that great during the spring into beasts during the summer. Flower Alley, an also-ran in the Triple Crown races, won the Travers in 2005. Stay Thirsty won the Travers in 2011. Plus, Pletcher could enter both Madefromlucky and Stanford. Stanford would provide the speed while Madefromlucky would track in the second flight in the Travers Stakes.
2. Give his West Coast fans a race - 
Baffert might be thinking that the Pacific Classic at Del Mar is the perfect race for American Pharoah to run in front of his adoring West Coast fans. The horse started his career on the West Coast. American Pharoah
hasn't run in front of his West Coast fans since winning the G1 FrontRunner last September. And, if Baffert doesn't intend on running Pharoah in the Awesome Again Stakes, the Pacific Classic might be his last chance to run the horse on the West Coast.
3. The Pacific Classic is more important to American Pharoah's legacy - 
No offense to those who really call it the Mid-Summer Derby, but since 2007 when Street Sense won the Travers, how important has winning the race really been?  Colonel John, Summer Bird, Afleet Express, Stay Thirsty, Alpha and Golden Ticket in a dead heat, Will Take Charge and V.E. Day.
That's the list of Travers Stakes winners since 2007. If American Pharoah runs in the Pacific Classic, he'd face some terrific older horses in the Baffert trained Hoppertunity, last year's
BC Classic
winner Bayern, another Baffert trainee, Hollywood Gold Cup winner Hard Aces, the aforementioned Catch A Flight, and brilliant mare
Beholder
. All of those horses are probable for the Pacific Classic this year. Isn't watching American Pharoah run past Bayern and Beholder and holding off Catch A Flight more impressive than watching him beat Texas Red and Frosted?
Loading...